Shop for Solar.
Compare Quotes from Multiple Pre-screened Installers
Estimate your savings with our Solar Calculator!
The EnergySage Marketplace
Solar makes you money.
Prices have fallen dramatically in recent years. Solar is generally cheaper than
your electric bill and can pay you back.
Great Investment!
Through savings and incentives, purchasing a solar system often pays you back quickly, generates free electricity for 20+ years and adds to your property value.
Learn More About Great Investment
What does EnergySage do for you?
EnergySage gets you quotes from multiple qualified installers, calculates the important financial
metrics and makes it easy to compare your quotes so you get a great deal! All at not cost!
Qualified installers

EnergySage screens installers for reputation, experience and quality of services.

Easy Quote Comparison

Multiple quotes are presented in a clear apples-to-apples format for easy comparison.

What to Expect at Every Step

Transparency & Choice

Competition and transparency create many options to choose from, ensuring that you get the best option for you!

Trusted Advocate

EnergySage is here to help answer your questions and guide your decision.

About EnergySage
How the EnergySage Marketplace works.
A simple convenient online process where pre-screened installers compete for your
business, makes it easy for you to switch to solar.
Create Your Property Profile
It only takes a few minutes to get started. Enter your address and energy usage and then sit back while qualified installers compete for your business.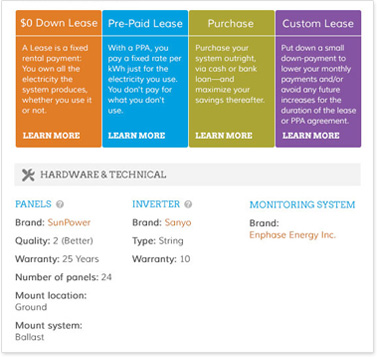 Get Quotes
The quotes are presented in a standard format to make them comprehensive and easy to understand. Multiple quotes allows you to choose the best installers, technologies, install dates and financing options like $0-down leases and loans.
Compare Multiple Quotes
Quotes and key metrics for each financing option are shown in an apples-to-apples format. Simply look over your savings summary, and read product and installer profiles and reviews.
Pick a Quote
We provide you with all the information you need to confidently make the right decision. Pick the best quote from a quality installer knowing that you got a great deal!
See Brilliant Savings
With financial incentives and financing options, your decision to go solar is a great investment. See what a difference solar can make to your wallet and the environment for years to come!
Source: U.S. Energy Information Administration
What to Expect
See how each step works and how to get the most from your EnergySage experience.
Our church saved 35% on its solar project, thanks to EnergySage. They encouraged and assisted us to get multiple quotes for our project and helped us to understand and compare our quotes; the result was a winning bid that was more than 1/3 lower than the initial proposal.
Ted Live
Arlington, MA.
Church.
Installed in Sep 2013.
View My Case Study
View All Solar Case Studies
EnergySage helps take the guesswork out of going solar. The EnergySage Marketplace is truly a one-stop shop to research and shop for solar. Their knowledge and consultative approach helped us sort through the maze of solar options to find the one clear choice that was best suited for us.
Rich Kane
Carlisle, MA.
Single-family residence.
Installed in Jan 2013.
View My Case Study